A unique position
The Carnot Institute CALYM offers a unique R&D offer in diagnosing and treating lymphomas: from the identification of new targets to international phase III clinical trials and beyond…
Expertise and advice for the entire R&D value chain
Identification of new targets
In vitro evaluation
In vivo preclinical studies
Phase 1 to phase 4 clinical trials
Biomarker discovery and validation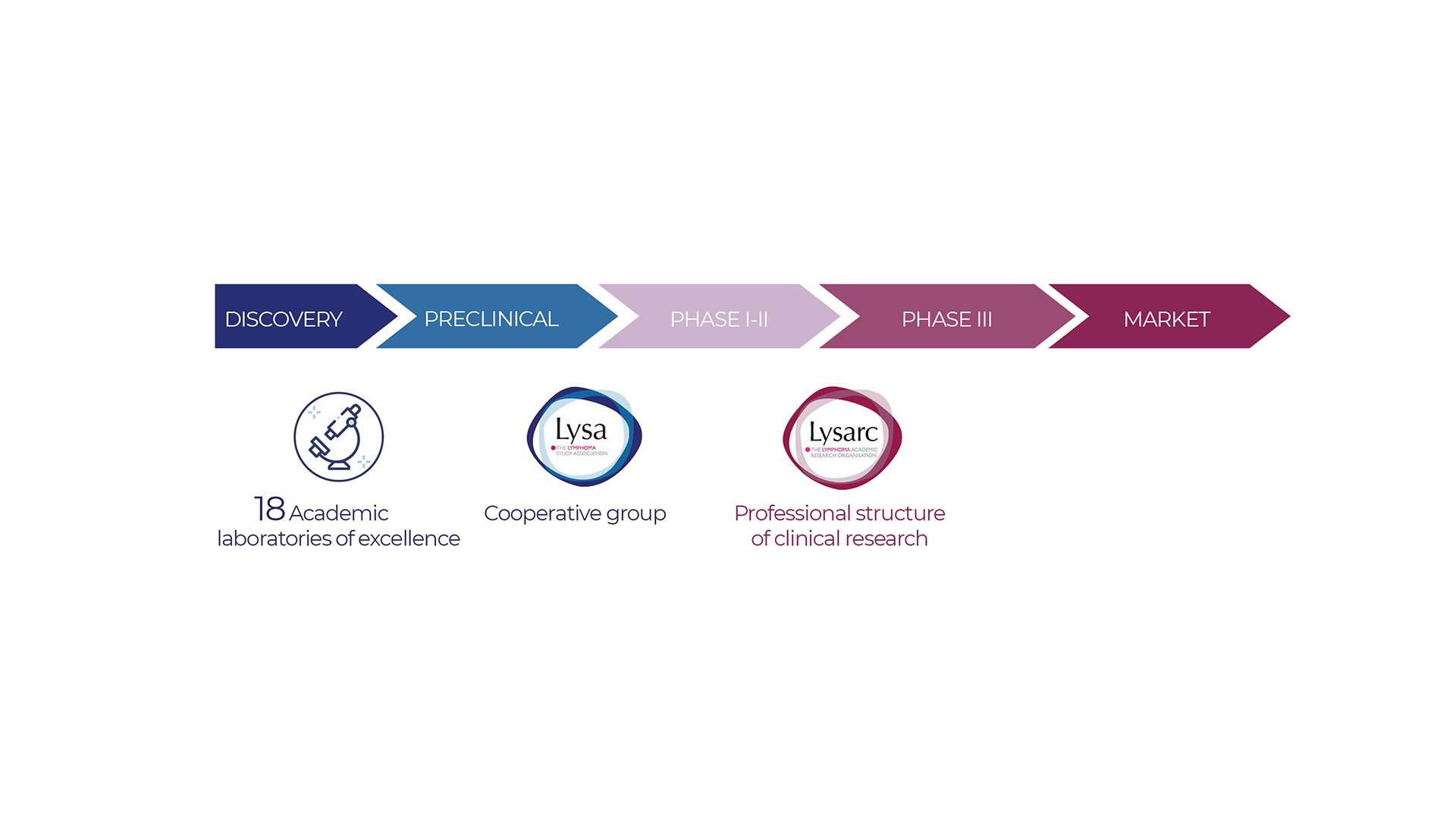 " Our ambition is to boost CALYM's enormous therapeutic innovation potential by positioning our consortium as a world-class task force, with a leading position in translational and clinical lymphoma research, through even tighter partnerships with the private sector, where each actor is fully involved in progress for the benefit of the patient."
CALYM Director
Lymphoma research expertise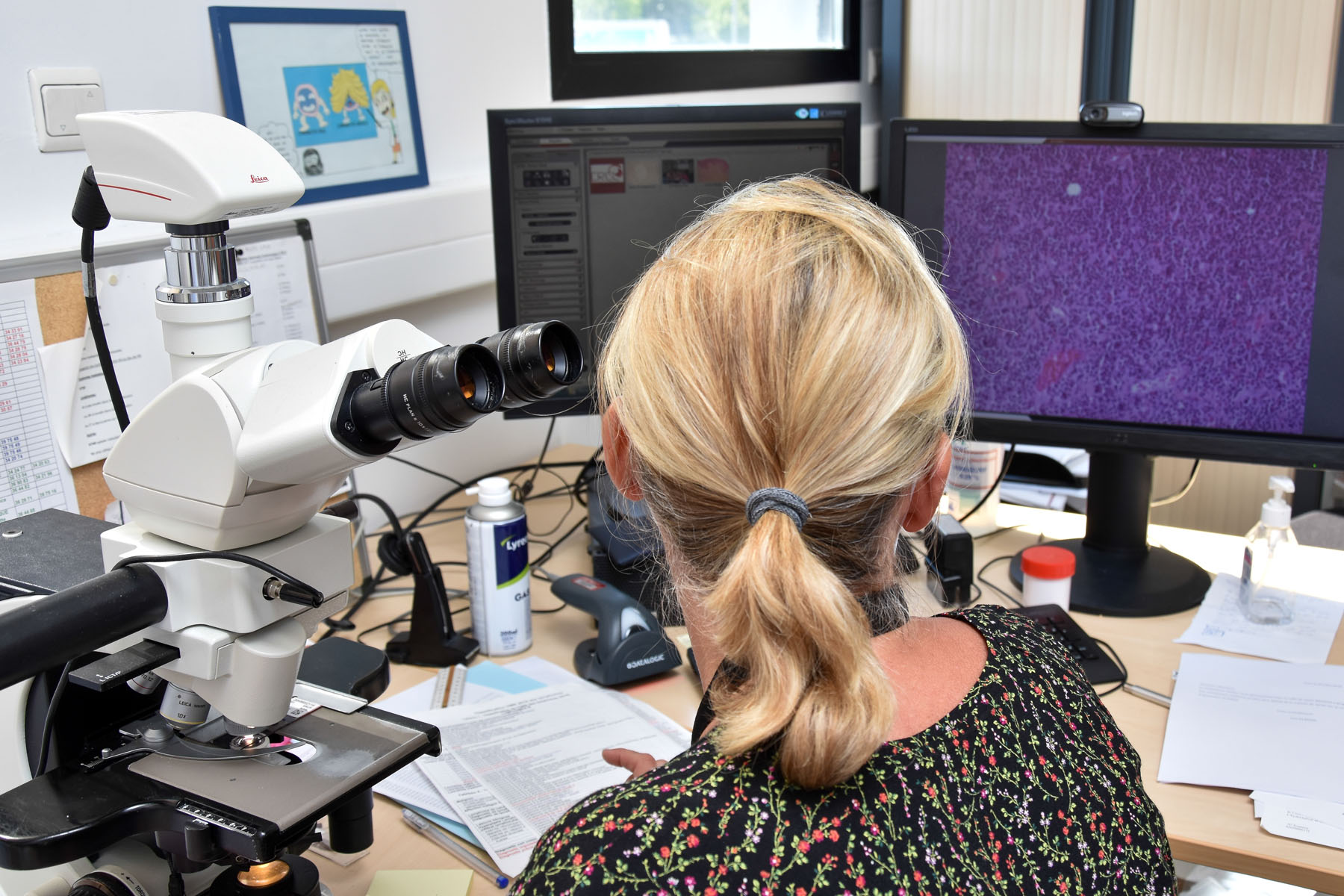 The Carnot Institute CALYM offers the expertise and advice of its internationally-reputed scientific experts in all stages of lymphoma research. The fields of expertise are numerous: tumour microenvironment, biomarker identification and characterisation, immunology, oncogenesis, anatomic-pathology, genetics, clinical research…
Examples:
Tailor-made programs and project management
Reviews of the state of the art: expert reports, conferences, training sessions
Advice: 2-hour meetings, conferences…
Deposition of jointly owned patents 
Publication or co-publication of scientific papers
Training offer via the Lymphoma Academy, a LYSARC initiative for its employees, the employees of the investigation centres and its industrial partners
Identification of new targets
The member organisations of the Carnot Institute CALYM offers the possibility of exploring new therapeutic approaches for the development of medicines that are more targeted, better tolerated and more efficient.
Teams that are specialised in the study of signalling pathways, whether pathways implicating kinase proteins, apoptosis or other oncogenetic mechanisms (transcription, epigenetics, non-coding RNA)
Recognised competence in normal and pathological lymphoid tissue physiology and in approaches based on the modulation of the tumour microenvironment
Significant expertise in the study of the action mechanisms of monoclonal antibodies, at the origin of the discovery of genetic factors that modulate antibody activity
Access to unequalled biological collections and development of new, innovating models that are closely linked to biology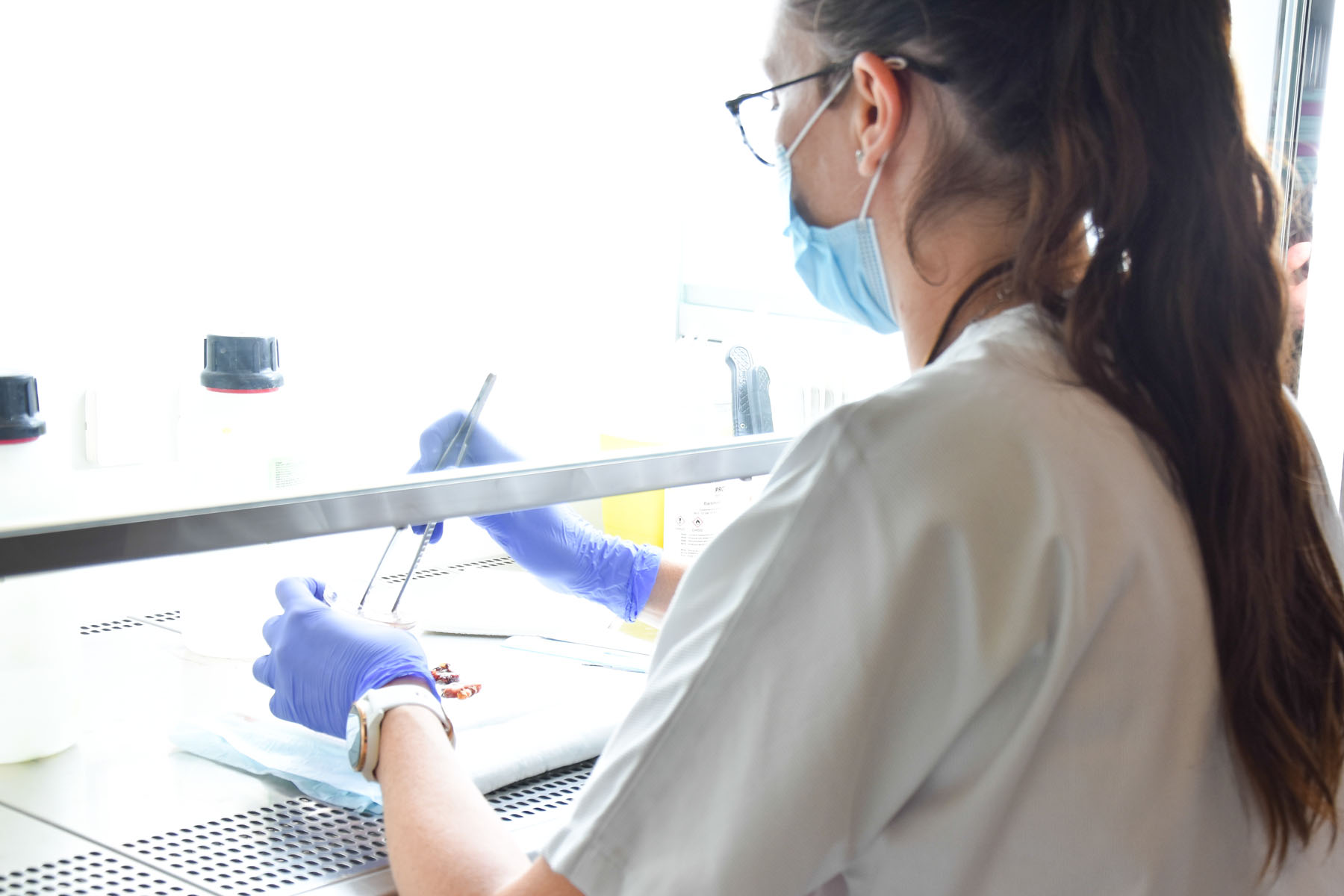 In vitro evaluation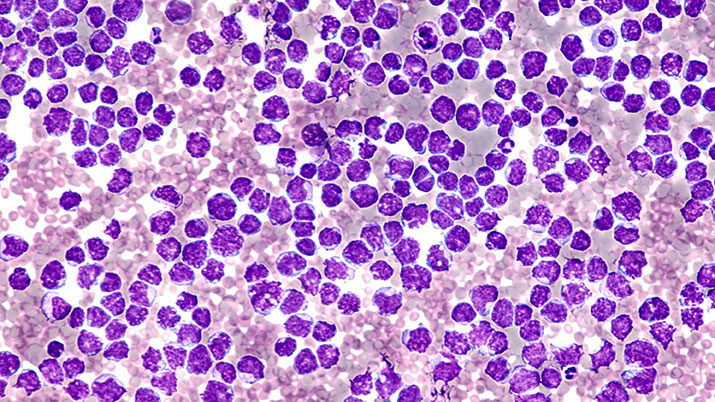 The Carnot Institute CALYM possesses a full resource base for the identification and validation of new biological targets or molecules.
Biological collections of cryopreserved human cells from lymphomas and reactive tissues, tumours and blood for the characterisation of molecular profiles, quantification studies, immunohistochemistry,
Many lymphoma cell lineages (B-cell, T-cell, mantle-cell lymphomas…) for studies in vitro to explore and identify biological targets
Several ex vivo models are available: CRISPR/CAS9, stem cell co-culture system…
Possibility of developing new models to order
High-tech platforms that make it possible to evaluate the action potential of new candidate medicines, define the preliminary innocuity and efficacy profile
In vivo preclinical studies
The R&D offer of the Carnot Institute CALYM also covers in vivo preclinical studies. They are supported by many innovating experimental models that have already been developed or are developed to order.
Application examples:
Defining the preliminary innocuity and efficacy profile of candidate medicines in order to optimise the cost-efficacy ratio of regulatory studies with the aim of clinical trials
Establishing correlations between genetic analyses and clinical data
Performing pharmacological studies
Studying the activation mechanisms of the immune system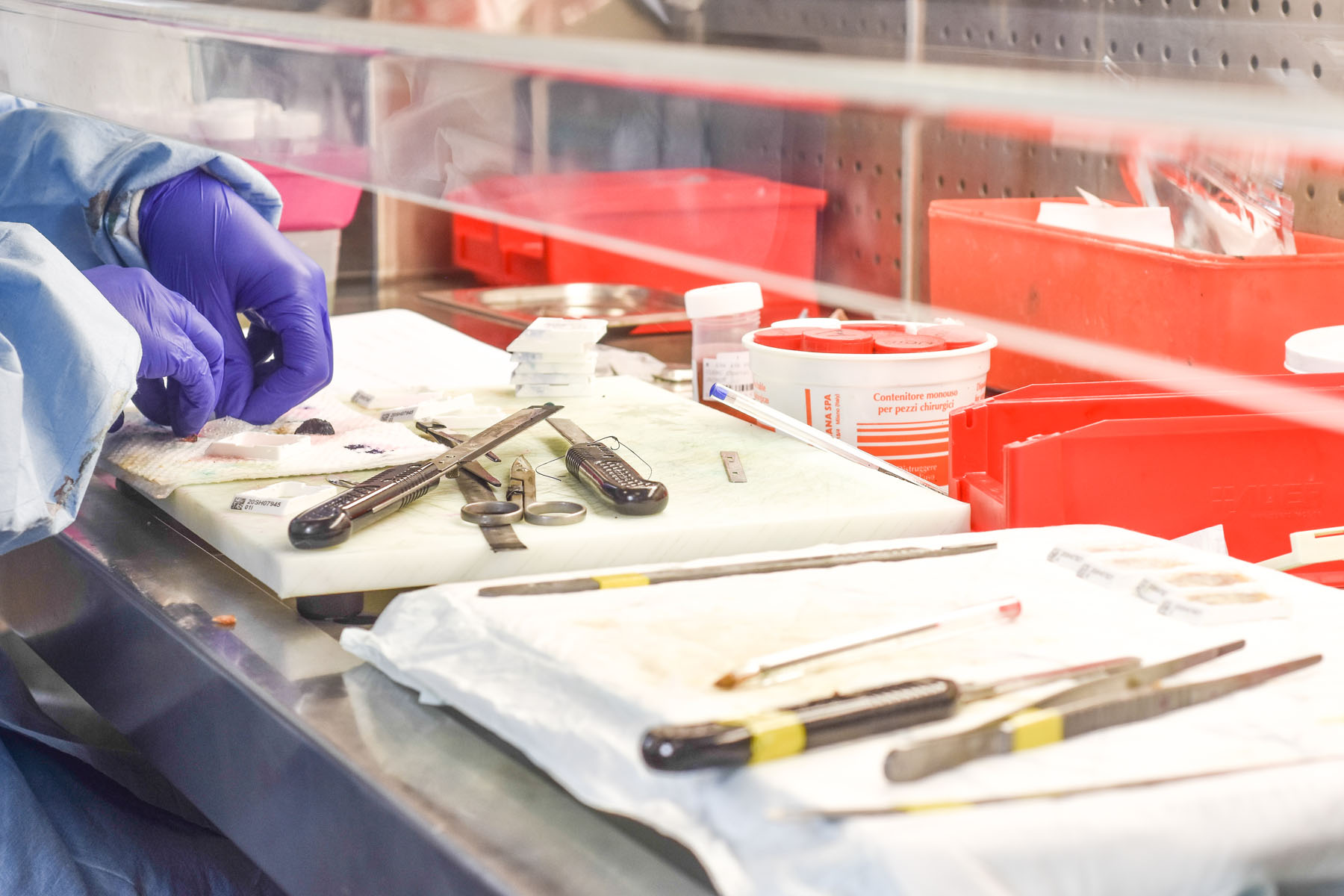 Phase 1 to phase 4 clinical trials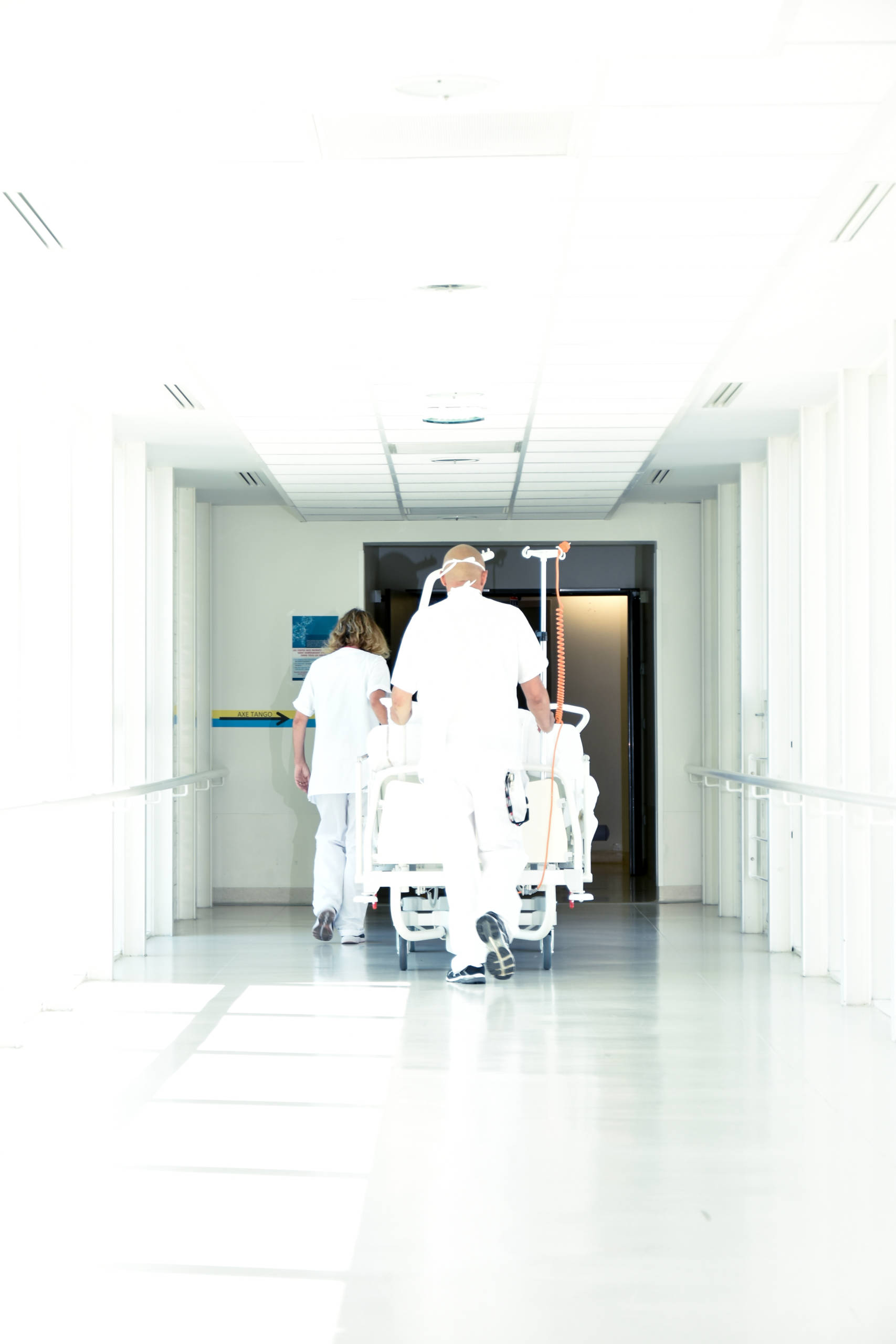 Among the member organisations of the Carnot Institute CALYM, there are two structures specialised in conducting phase 1 to phase 4 lymphoma clinical research projects: the LYSA cooperating group and its operational structure LYSARC.
A network of more than 500 professional lymphoma specialists, and more than 90 care centres in 3 countries (France, Belgium, Portugal)
Many years of experience in clinical research operations on lymphomas
Labelled as a "French cooperating intergroup with international scope in the field of clinical cancer research" by the French National Cancer Institute
Unique, multidisciplinary, both scientific and operational expertise in the field of lymphoma research
State-of-the-art tools and resources to conduct phase 1 to phase 4 clinical studies: databases, biological collections, clinical research platforms…
Biomarker discovery and validation
The researchers of the Carnot Institute CALYM develop, or co-develop with partners, new biomarkers (in tissues, blood, imaging) in order to improve diagnostics, guide therapeutic decisions and/or predict tumour responses.
CALYM expertise for biomarker development:
Discovering new biomarkers (diagnostics, prognostics, pharmacodynamics, clinical response predictions, surrogate, safety…)
Clinical validation on large cohorts and registering in a clinical trial
Development of a clinical test (ex: genome screening technologies to routinely applicable technologies, such as RT-MLPA)
Possible co-development according to the partners' needs:
CALYM conducts the biomarker discovery phase, establishes the proof of concept, transfers the marker/the technology and conducts the clinical validation.
The CALYM partner (in vitro diagnostics company, biotechnology, pharmaceutical group) produces and performs the qualitative analysis of the test (kit), obtains the CE marking authorisation and conducts the commercialisation and distribution phase.
Partnership offer description sheets to download: