Complete clinical research offer
The LYSARC in collaboration with the cooperating group LYSA possesses the competences, experience and the means to conduct clinical lymphoma research projects
Study design*
Study documents**
Methodological advice
Blood and tumour sample collection
Investigation Medicine Provision (IMP)
Medical writing (clinical study reports)
Study monitoring
Medical monitoring (24/7 availability)
Local support for study sites
IVRS/IWRS randomisation
External collaborations for PK/PD
* In collaboration with the LYSA clinical research network experts
**Protocols and consent forms reviewed by the patient committees of the French League Against Cancer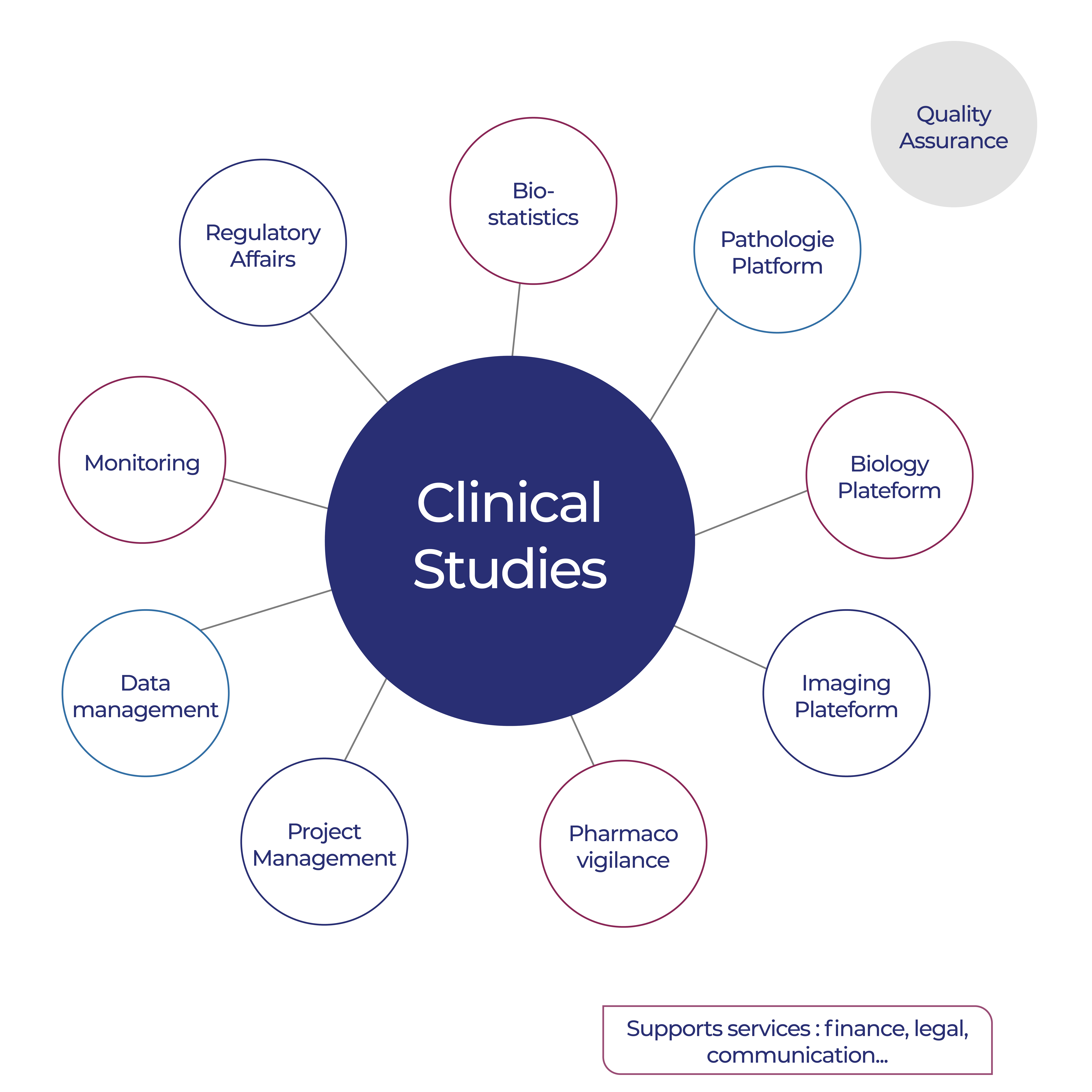 Conducting phase 1 to phase 4 clinical studies
The LYSARC promotes and conducts clinical studies, whether they have a purely academical aim or also contribute to industrial development.
Phase I clinical trials, including first tests on humans
Phase II clinical trials
Phase III clinical trials, including international pivotal registration studies
Phase IV clinical studies on a marketed medicine for monitoring, especially regarding toxicity
Every year, approximately 50 active or ending studies are conducted in the field of lymphoma research thanks to the LYSARC. The finished work have already enabled the registration of new treatments and/or indications by industrial actors, and a significant scientific production by the LYSA and its academic partners.
Conducting non-interventional and ancillary studies
The LYSARC is able to conduct non-interventional studies in the field of lymphoma research and to support many biological, histopathological, imaging, statistical and bioinformatics ancillary studies.
Examples:
Long-term clinical post-protocol patient monitoring (survival, late toxicity…)
Retrospective studies on cohorts for new medicines after conditional marketing authorisation
Clinial-biological correlation studies
Meta-analyses
Sub-population genetic data exploration
Regulatory pharmacovigilance imperatives and the need to evaluate the long-term effects of therapies make the long-term post-protocol monitoring of patient survival and possible late toxicities more and more important.
Furthermore, the search for new biomarkers with a diagnostic, prognostic and theranostic aim is now a parallel objective for most clinical protocols, based on tumour, blood, genetic and imaging material collected and clinically documented.
Research platforms
The LYSARC, in collaboration with the LYSA clinical research network, provides research platforms that are essential for clinical and ancillary lymphoma research.
Application examples:
Conducting high-quality, centralised pathology and imaging reviews
Collecting, stocking and managing biological samples from protocols