Publications in the reference journals
The lymphoma research work conducted by the LYSA, in collaboration with its operational structure LYSARC, have already led to more than 250 publications in leading medical journals.
Examples of landmark studies:
AHL 2011 study (phase 3) that defines a new care standard for advanced Hodgkin lymphomas
Ro-CHOP study (phase 3)
GATA study (phase 2)
Register of anaplastic T-cell lymphomas
Presence at international congresses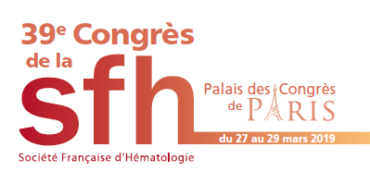 The results of the LYSA research projects are regularly presented at international scientific congresses, in the form of posters and/or oral presentations.
Organisation of scientific congresses
The LYSA is also an organiser and co-organiser of scientific congresses on scientific progress in the field of lymphoma research.
The LYSA Days (organisation every 18 months, more than 500 lymphoma specialists)
International Workshop on PET in Lymphoma & Myeloma (co-organisation every 2 years)