Carnot CALYM Institute Activity Report 2021
PARTNERSHIP AND INDUSTRIAL INNOVATION IN THE SERVICE OF LYMPHOMA RESEARCH
2021 is a year of confirmation and consolidation that invites us to look to the future, and confirms the excellent dynamics of the CALYM consortium.
The Carnot CALYM Institute has demonstrated on several occasions its ability to carry out projects on the entire R&D value chain. The year 2021 also marks the continuation of the structuring of our consortium's tools. These include the development of the Lymphoma Data Hub in the field of artificial intelligence and the start of the FRENCH CONNECT program for molecular diagnosis and monitoring of MRD. These structuring projects with very high added value are generating very strong interest and opening up new possibilities for collaborative projects within our consortium.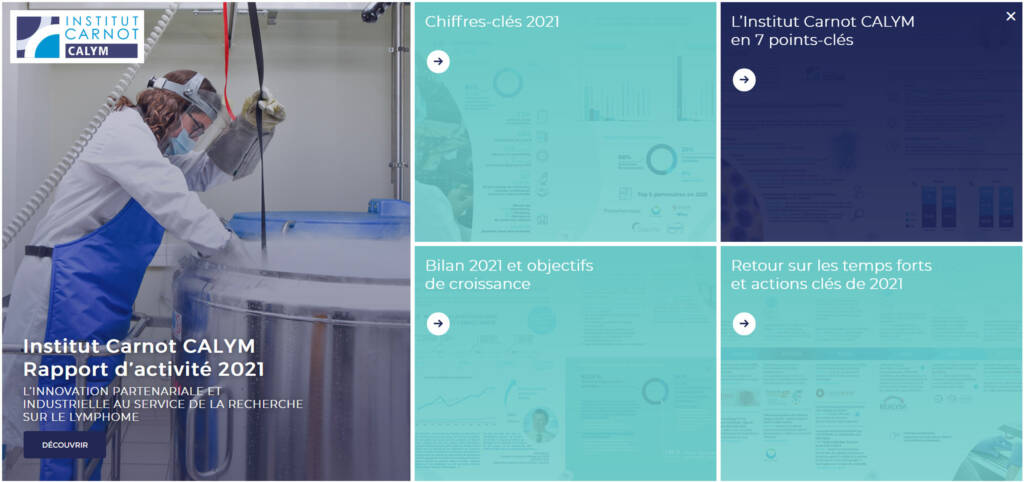 CALYM has celebrated its 10th anniversary and is now looking forward to the next decade. All indicators are green with several essential and historic steps already taken.
This 2021 activity report first allows us to situate the CALYM Carnot Institute at the heart of lymphoma research by presenting the Institute in several key points: its missions, the challenges of lymphoma research, its member entities, its complete R&D offer, its strong governance and multidisciplinary operational team, and its active role in the research ecosystem.
This first approach then makes it possible to present the Institute's 2021 Assessment and its growth objectives, and then to go back to the key actions of the past year and the results of 10 years as a Carnot Health Institute.
Finally, you will discover the highlights of 2021, the structuring axes of the CALYM R&D offer, the partnerships, the support to the creation of companies and the growing success of the RedTalks, these monthly open access scientific webinars anchoring the consortium's competence at the international level !
You can view this interactive report on the link below: