Congratulations to the 2 CALYM-Janssen grant winners!
These are the Hyperion project by Mikael Roussel and the TMTV project by Dr Kanoun and Rossi.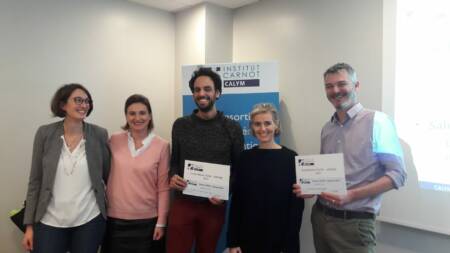 The CALYM team received very good files which were difficult to decide. The jury was composed of Pr. Laurence de Leval, Pr. Franck Morschhauser, Dr. Sandrine Roulland. Dr. Florence Broussais and Emmanuel Gomez also issued a LYSARC / CALYM feasibility opinion. All stressed the difficulty of the choices given the quality of the files submitted; the results were very close.
The full titles of the 2 winning projects:
Dr. Mikael Roussel (U1236 in Rennes): Analysis by imaging mass cytometry (Hyperion) of the heterogeneity of the tumor environment as a function of genetic alterations in DLBCL;
Dr Salim Kanoun (IUC-Toulouse) and Dr Cédric Rossi (Dijon): Automated calculation of TMTV by Deep Learning and integration into a prospective clinical study workflow.
They will therefore each receive € 20,000 to carry out their project.
Dr Sandrine Rolland gave them the awards in the presence of Claire Albrecht (Medical Director Hematology France) and Sophie Beauclair (Scientific Director Hematology) of Janssen.