14th edition of the Rendez-vous Carnot
Carnot CALYM Institute will be there, you?
The Rendez-vous Carnot are back this year with their 14th edition, on November 17 and 18, 2021 at the Palais des Congrès in Lyon. On this occasion, more than 2,500 participants are expected to attend conferences, discover the place of innovation in 2021 or to come and meet public research laboratories.
Many R&D partners
Once again this year, the Rendez-vous Carnot will allow companies to meet their future partners in research and development in order to support their innovation actions. In fact, in 2019, 95.3% of the 2700 participants in the Rendez-vous Carnot said they had identified new R&D partners. So, whatever the size of your company and your sector of activity, you will be able to find your new R&D partners during this 14th edition.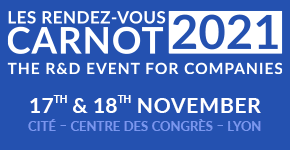 These Rendez-vous Carnot will also be an opportunity to discover the place of innovation through several meetings and workshops:
Meetings with Open-innovation decision-makers from major groups present on a dedicated space

Meetings with a selection of investors/funders

Meetings with start-ups and innovative SMEs

Fundraising workshops
In addition, throughout these Rendez-vous Carnot, you will have the opportunity to meet public research laboratories in order to develop your innovation and R&D projects.
You have an innovation project? Are you looking for an R&D partnership or support to bring a project to maturity? Get a free registration to the Rendez-vous Carnot!
Why come to the Rendez-vous Carnot?
The Rendez-vous Carnot offers you a complete range of activities:
R&D actors are mobilized for companies

Structures of innovation support will be present

You will have the opportunity to meet investors/funders, to participate to "financing workshops" in order to know which investors you should involve in the financing of your company.
During these two days, you will be able to find the Carnot Calym Institute in the health village.
For more information, please visit: https://www.rdv-carnot.com/index.php
15 YEARS ANNIVERSARY OF THE CARNOT NETWORK
Facilitating access to R&D for all companies to enable them to remain competitive in an increasingly fast-changing world is the mission that
Carnot have been leading since 2006. Today, the Carnot network carries out 55% of the R&D financed by companies to public research, i.e. more than 10,200 R&D contracts per year. These partnerships have been the source of major innovations, benefiting companies of all sizes and from a wide range of sectors.
In 2020 the Carnot network has launched a virtual showroom to look back on 15 years of innovation. In 2021 CALYM is proud to participate in the Health section with a focus on the Lymphoma Data Hub.
To understand the stakes, the scientific and technological progress achieved by CALYM with the Lymphoma Data Hub, download the presentation sheet (French version but you can have a look to the following video).