Health's Broadcast Magazine de la santé – Resistant lymphoma: the hope of a new treatment
The reference health broadcast called Le Magazine de la santé on France 5, devoted last Wednesday, a program on lymphomas.
After explaining what the lymphatic system is and how this cancer attacks it (including a complete and illustrated explanation of what lymph is and its role in our body), the program focused on the testimonies of people who have been affected by or have recovered from lymphoma to understand how they found out they had lymphoma, their symptoms, the early signs of the disease, the diagnosis, the treatments and how they lived it or still live it today.
The program then focused on a new treatment being tested at Henri Mondor Hospital for patients who have not responded positively to CAR-T cells: the bispecific antibody. This treatment, whose efficacy is currently being studied in the BiCAR study launched in 2021 by LYSA/LYSARC in collaboration with Roche, which focuses on patients who have failed treatment after CAR T-cells using an innovative molecule: the CD20xCD3 bispecific antibody.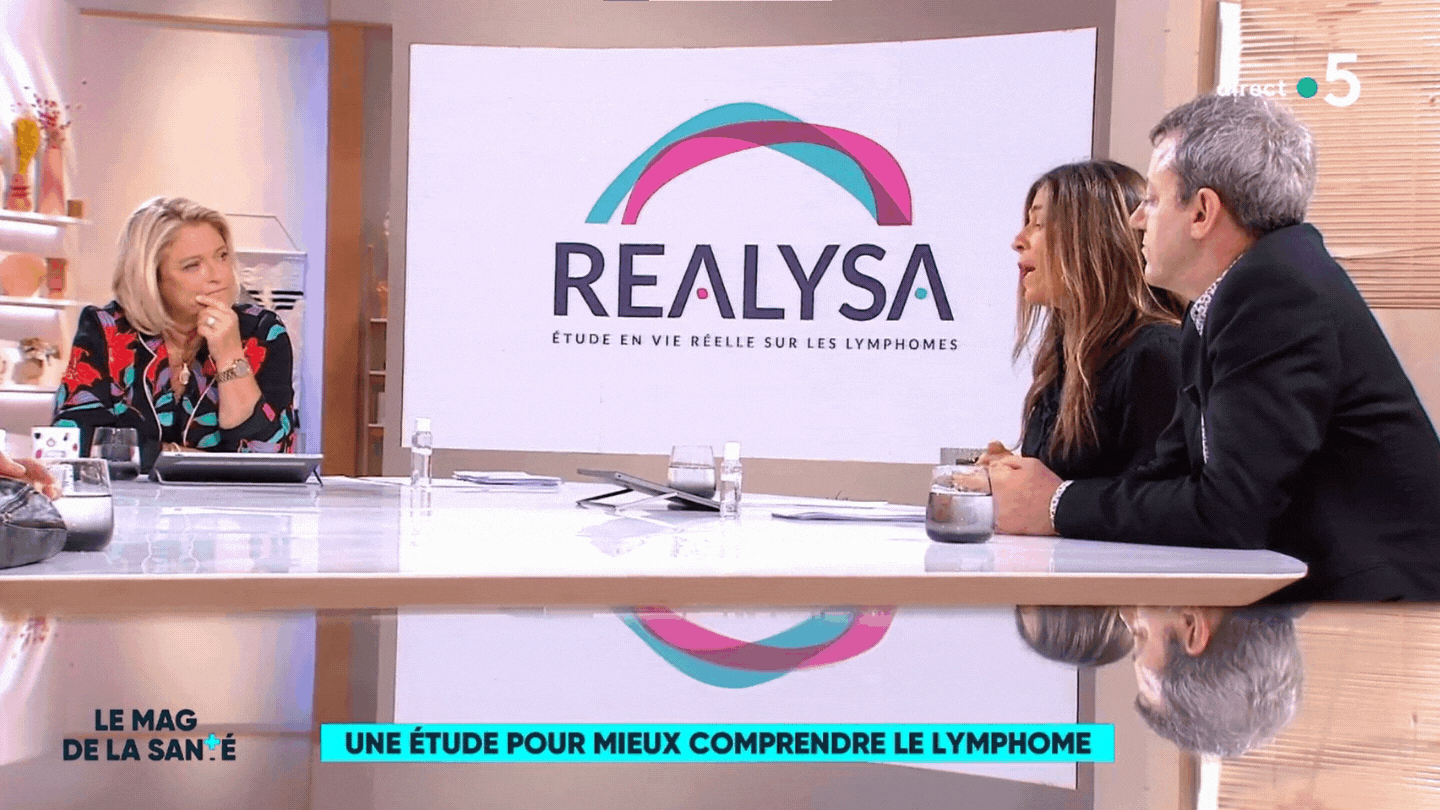 Go to the France TV  website to watch the show in replay (French)
Bispecific antibodies represent a new therapeutic tool for patients. The CD20xCD3 bispecific antibody studied in this study binds to both the patient's own T cells and the cancer cells. This binding redirects the T lymphocytes against the malignant cells which they can thus eliminate.In this study, the molecule is being tested in patients with diffuse large B-cell lymphoma who have failed CAR T-cell therapy. The hypothesis is that the bispecific antibody will be able to reactivate the CAR T-cells previously administered and activate the patient's non-genetically modified T-cells, two mechanisms of stimulation of the patient's immune system will therefore come into action to help eliminate the "cancerous" cells.
Then, a focus was made on the REALYSA study, promoted by the Hospices Civils de Lyon, set up by the LYSA and conducted by the LYSARC and the Inserm EPICENE research unit (Bordeaux), which aims to follow 6000 patients with certain types of lymphoma throughout France over 9 years. This ambitious and innovative study will improve knowledge about lymphoma and the lives of patients, in order to optimize patient care and quality of life.
Throughout the program, viewers were able to ask questions about screening conditions, diagnosis, hereditary risks, remission and the various treatments currently available. The health magazine had the merit of making the general public discover this still little-known disease with more than 18,000 new cases per year and whose treatments are constantly evolving and being perfected thanks to scientific research.