The CeVi CAR-T collection, which gathers samples from patients treated with CAR-T cells, has recruited its 200th patient!
Since 2020, to understand and optimize new CAR-T (Chimeric Antigen Receptor-T) treatments, and to follow the latest developments in patient management, the CeVi collection has been organizing the collection of samples from patients treated with CAR-T cells.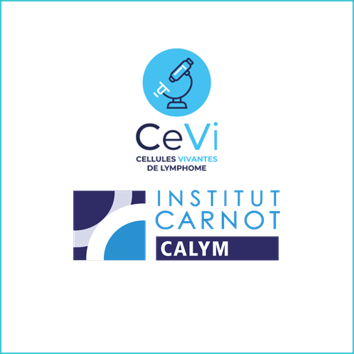 The Carnot academic consortium CALYM, bringing together LYSA, LYSARC and 18 research entities dedicated to research in the field of lymphoma, at the origin of the first collection of viable cells from patients with lymphoma (Collection_CeVi), and the network of Biological Resource Centers (BRC) CRYOSTEM which has set up the first European collection of biological resources dedicated to the allograft of hematopoietic stem cells, have combined their expertise to create a collection of biological resources from CAR-T cell-treated lymphoma patients, called the CeVi_CAR-T Collection.
The two entities are collaborating to structure a collection network for the constitution of a collection of biological resources, perfectly annotated, from blood samples of patients with lymphoma and treated with CAR-T cells.
The CeVi CAR-T collection allows researchers of the CALYM consortium and their partners to access rare resources: living cells and associated plasmas of patients treated with CAR-T cells for their lymphoma (DLBCL, FL, and MCL).
This material allows to better understand :
the biological mechanisms,

the responses (or non-responses) to treatments

toxicities,

the improvement of knowledge.
A first project related to the study of metabolism in plasmas, launched in 2021, already offers beautiful results which will be published soon.
This project is possible thanks to the patients who agree to participate in this study, to the CeVi centers that mobilize every day to freeze these precious samples, and to the Cryostem coordination team.
Patients, nurses, managers, hematologists, biologists, project managers, CRAs, technicians… Thank you all!
To learn more about CAR-T cells, the manufacturing of these cells, or the CAR-T qualified centers, discover the article "CAR-T, what is it?"