The study started in November 2018. A pilot phase was initiated in 7 hematology services, then a second phase was launched with 9 additional hematology services. A third phase began end of 2020.
Currently, 35 centers can include patients in REALYSA.
During COVID-19 epidemic, the inclusions in REALYSA were suspended for 2 months, so that services could focus on critical activities.
Thus, since the beginning of the study, 5238 patients have been included in REALYSA (last update: 31/03/2023). Many thanks to patients who accepted to participate to this ambitious and innovative project.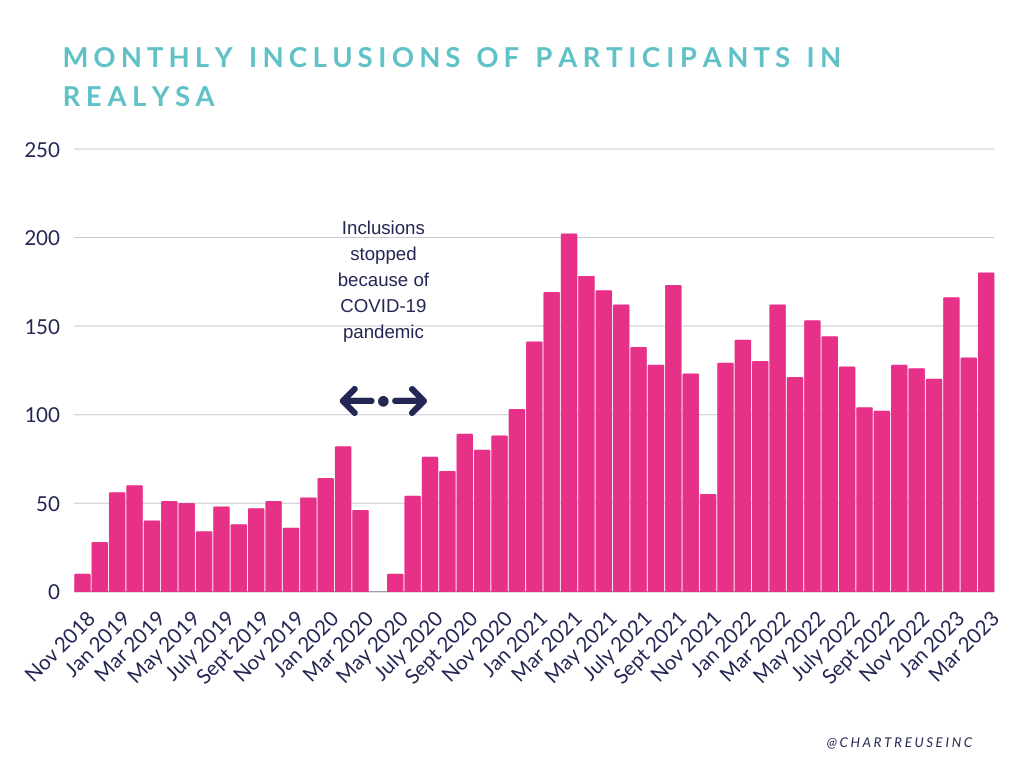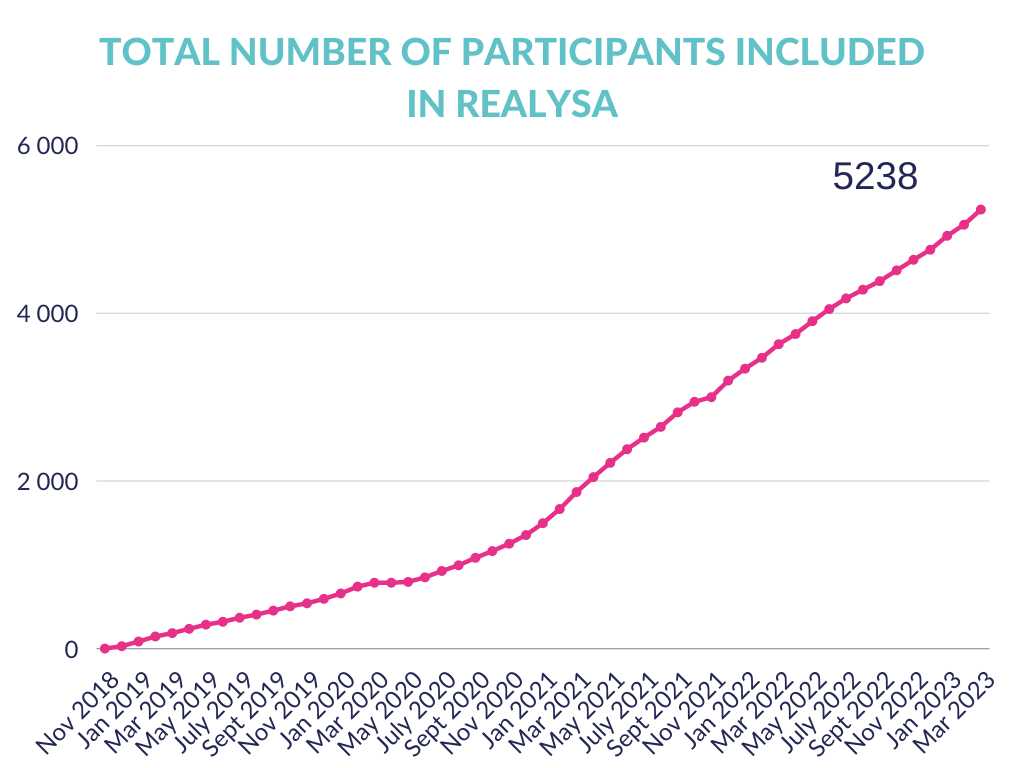 Aucun résultat ne correspond à votre recherche
1. Hôpital Lyon-Sud HCL 165 Chemin du Grand Revoyet
69310 Pierre-Bénite
2. CHU Dijon 14 Rue Paul Gaffarel
21079 Dijon
3. Institut de Cancérologie Strasbourg Europe (ICANS) 1 Place de L Hôpital
67000 Strasbourg
4. Institut Bergonié 229 Cours de l'Argonne
33000 Bordeaux
5. CHD Vendée Boulevard Stéphane Moreau
85000 La Roche-sur-Yon
6. CHU Bordeaux Avenue Magellan
33600 Pessac
7. IUCT Oncopole 1 Avenue Irène Joliot-Curie
31100 Toulouse
8. Hôpital Henri Mondor Créteil APHP 51 Avenue du Maréchal de Lattre de Tassigny
94010 Créteil
9. CH Libourne 112 Rue de la Marne
33500 Libourne
10. Polyclinique Bordeaux Nord Aquitaine 15-35 Rue Claude Boucher
33300 Bordeaux
11. CHU Grenoble Boulevard de la Chantourne
38700 La Tronche
12. Institut d'Hématologie de Basse Normandie Avenue de la Côte de Nacre
14000 Caen
13. CHU Nantes 5 Allée de l'Île Gloriette
44000 Nantes
14. CHRU Lille 2 Avenue Oscar Lambret
59000 Lille
15. CHU Poitiers 2 Rue de la Milétrie
86021 Poitiers
16. Centre Léon Bérard Lyon 28 Promenade Léa et Napoléon Bullukian
69008 Lyon
17. Centre Henri Becquerel 1 Rue d'Amiens
76000 Rouen
18. CH Mulhouse GHRMSA 20 Avenue du Docteur René Laennec
68100 Mulhouse
19. CH Arras 3 Boulevard Georges Besnier
62000 Arras
20. CH Niort 40 Avenue Charles de Gaulle
79000 Niort
21. CH Bretagne-Atlantique 20 Boulevard Général Maurice Guillaudot
56000 Vannes
22. Institut de Cancérologie et d'Hématologie Universitaire de Saint-Étienne (I.CHU.SE) 108b Avenue Albert Raimond
42270 Saint-Priest-en-Jarez
23. Hôpital Saint-Louis Paris APHP 1 Avenue Claude Vellefaux
75010 Paris
24. CH Bourgoin-Jallieu 30 Avenue du Médipôle
38300 Bourgoin-Jallieu
25. CHU Clermont-Ferrand 1 Rue Lucie et Raymond Aubrac
63100 Clermont-Ferrand
26. Groupe Hospitalier Mutualiste de Grenoble 8 Rue Docteur Calmette
38000 Grenoble
27. CHU Besançon 3 Boulevard Alexandre Fleming
25000 Besançon
28. Hôpital Saint-Vincent-de-Paul Lille Boulevard de Belfort
59000 Lille
29. CH Dunkerque 30 Avenue Louis Herbeaux
59240 Dunkerque
30. CH Saint-Brieuc 10 Rue Marcel Proust
22000 Saint-Brieuc
31. CH Métropole Savoie Chambéry Rue Lucien Biset
73000 Chambéry
32. CH Roubaix 11 Boulevard Lacordaire
59100 Roubaix
33. CHU Rennes 2 Rue Henri le Guilloux
35000 Rennes
34. Institut Curie 26 Rue d'Ulm
75005 Paris
35. CHU Limoges 2 Avenue Martin Luther King
87000 Limoges